---
We had the good fortune and pleasure of having a few special girls here to begin our 3rd start in this beloved breed.
Below are some of the dogs that were owned and/or bred by us that have made a wonderful impact on our current dogs.
---
---

---
The Very Beginning…….
When I was 11 my Christmas/Birthday present of choice was a tri rough collie. "Dixie" became Hailey's Heart of Dixie and when she was about a year old her breeder suggested I try Junior Showmanship. While Dixie didn't enjoy showing, she was a trooper as I navigated my way into the world of purebred dogs. She was my Juniors dog until my visit to Southland in 1997.
(CH Abbeyhill Silver Service x Shelana Southern Breeze)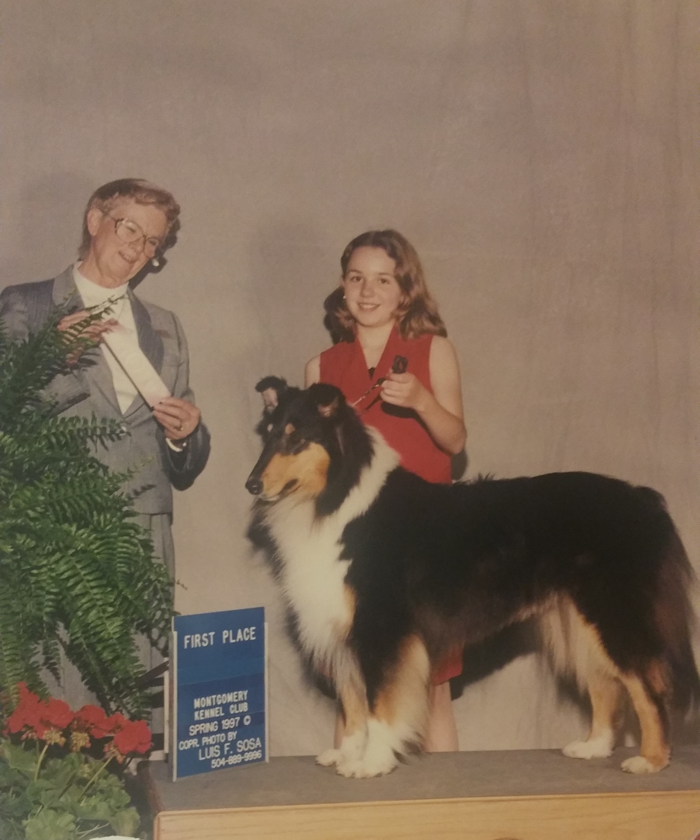 On my first visit to Southland I came home with a blue boy who was from a repeat breeding of a very special litter. I didn't realize at the time but my "Dillon" Southland Roselyn A'Legacy was Bowen's uncle. Dillon enjoyed showing and was such a great first conformation dog for me. He retired at a few years old and spent his days on a couch.
(Southland Roguish Rhett x CH Tartanside Sophistication)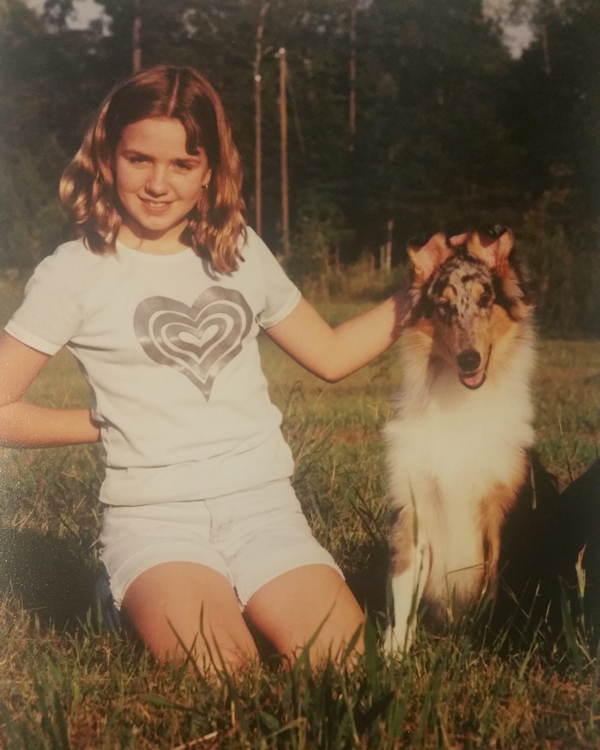 CH Abbeyhill Roselyn Th'Gambler
(CH Pinwynd's Sparkling Brut ROM x CH Abbeyhill Evening Shade ROM)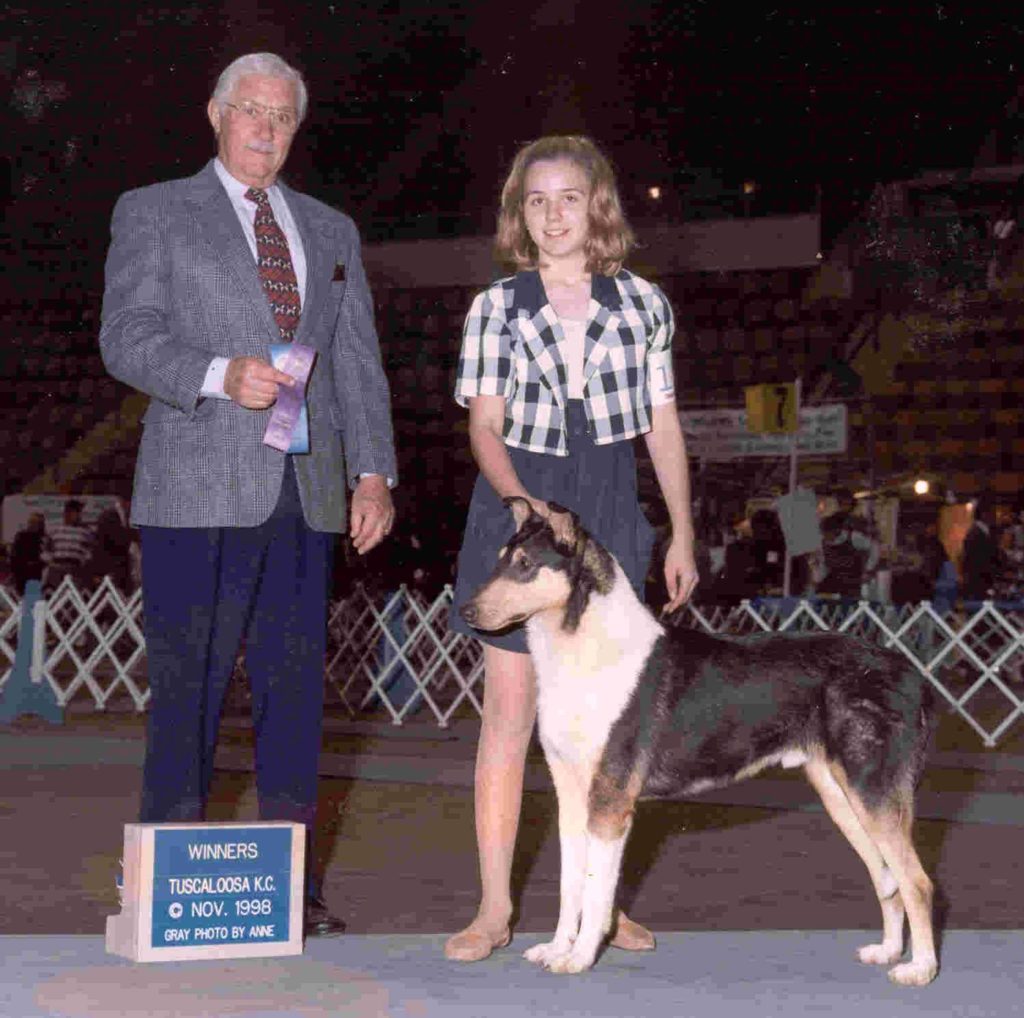 "Maverick" came to our home in summer of '97 from an iconic litter that Bob & Betty Abbott bred. His sister went on to be CCA Winner's Bitch 1998. Maverick finished owner/handled when I was 15, he was my first champion and my first smooth. Maverick went on to sire a special litter of 7 smooths.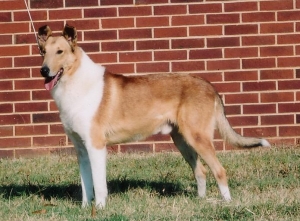 We leased and co-bred CH Bo-Dandy Kisses of Aryggeth to him. 4 from the breeding finished, including CH Roselyn Raisin' The Stakes "Kane". Kane was my first AKC bred by medallion I ever earned by getting all of his conformation points from the Bred By Exhibitor class. Maverick went to my grandmother's house to retire and spend his last years on her farm.
CH Roselyn's Raise' The Stakes
Roselyn-N-Shelana LuvBug
(CH Bo-Dandy's Ninja x Shelana Glitz N Glamour)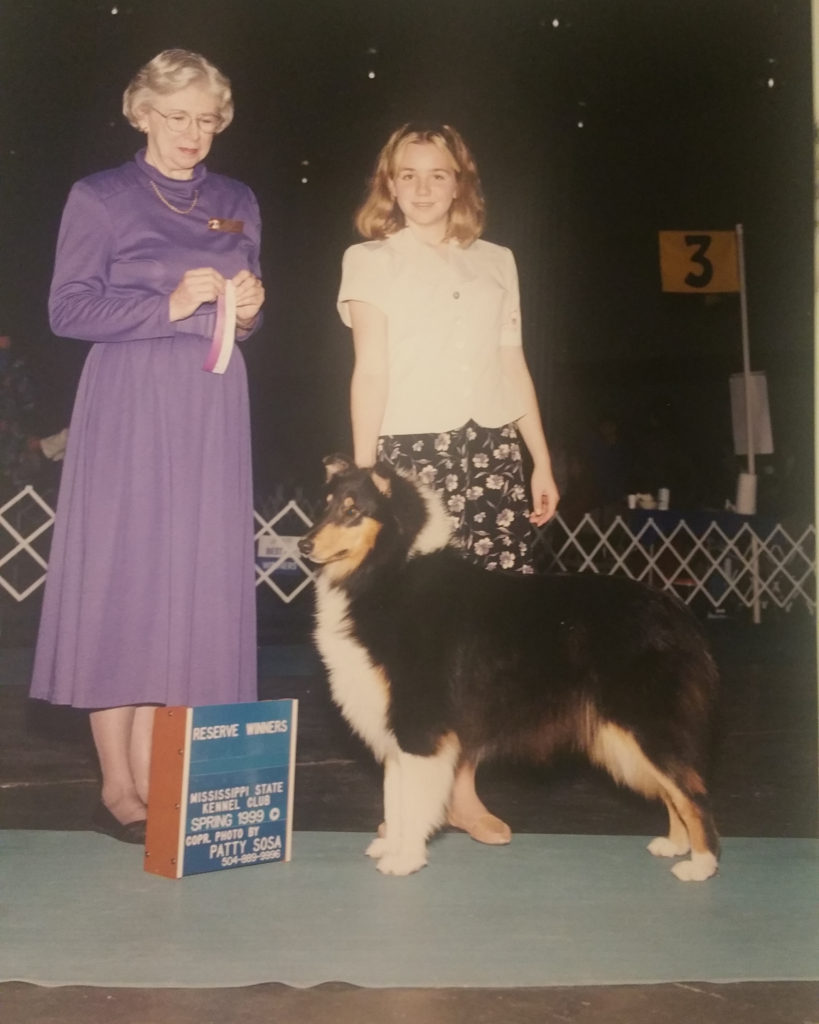 "Briana" was co-bred with Jackie Henson and a niece to my very first collie Dixie. Briana was the best Jrs dog I could have asked for and was almost finished when we tragically lost her at 4 yrs old.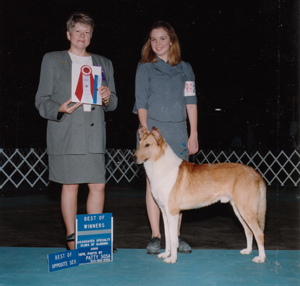 "Kane" winning his second major at our local CC of AL specialty under Breeder/judge Shelly Roos in 2000. Kane lived his life with us and helped raise our daughter Ava until he left us in 2011.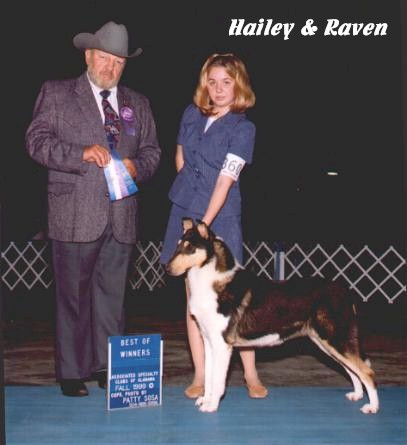 CH Bit O'Heaven Icon of Roselyn "Raven" finished quickly with specialty and all breed majors.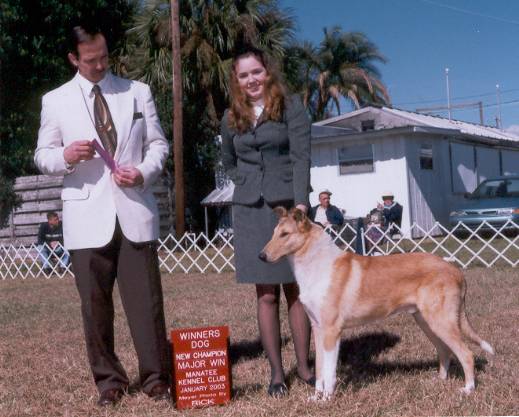 Roselyn's Mirror Image "Ryan" was our keeper from the Kane x Raven breeding. He finished exclusively from the Bred By class on my 19th birthday with his 3rd major.
---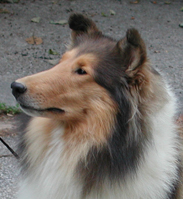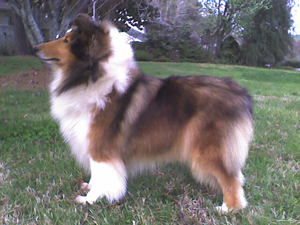 Overland Just Teasing "Tease"
(CH Overland Summer Storm ROM x CH Overland Inspiration)
Overland Just Teasing "Tease" came to us from Overland Collies in 2002. It was the same year I met my husband and when we married the kennel name Avondale truly began. Tease was bred to the handsome Bowen Island son CH Southland's Fort Sumter. Regrettably even though we kept 2 bitches from the litter, with family commitments they were never bred. We lost Tease in 2014 and both her daughters Ellie & Sookie in the summer of 2019. They were over 13 and we will always miss their smiling faces.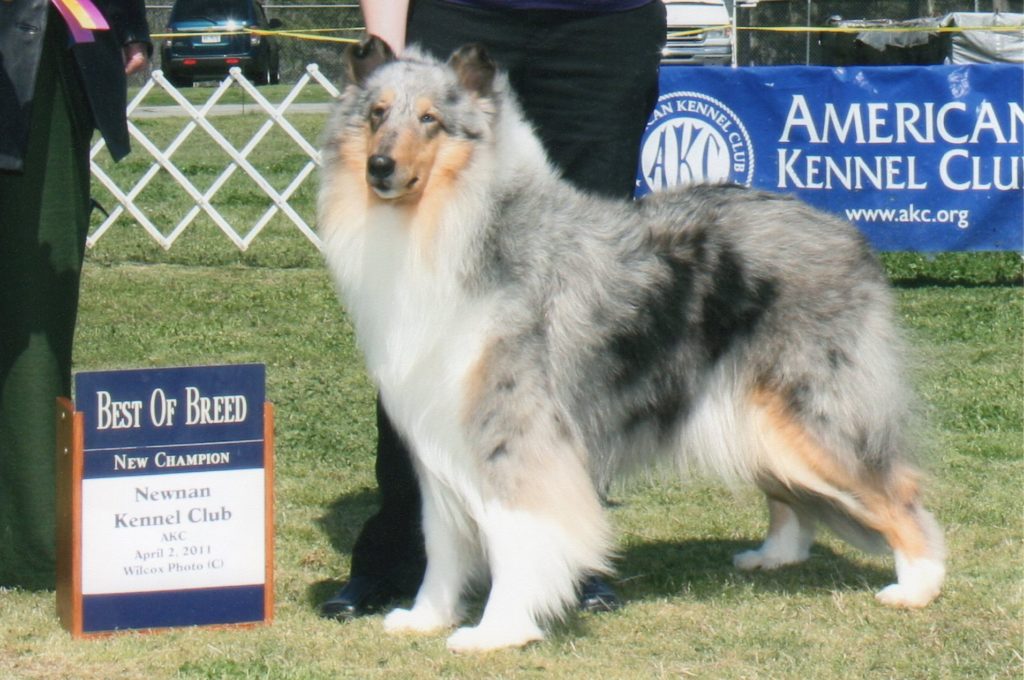 CH Avondale Spiritwind Aurora "Lyra" came to us from Janna Wilkins and while we were starting our family Janna got her back for a litter by CH Limerick Tartanside Patriot. One beautiful blue boy finished from that breeding.
---